| | |
| --- | --- |
| Description: | Weilong GTS3 LM 3x3x3 Cube |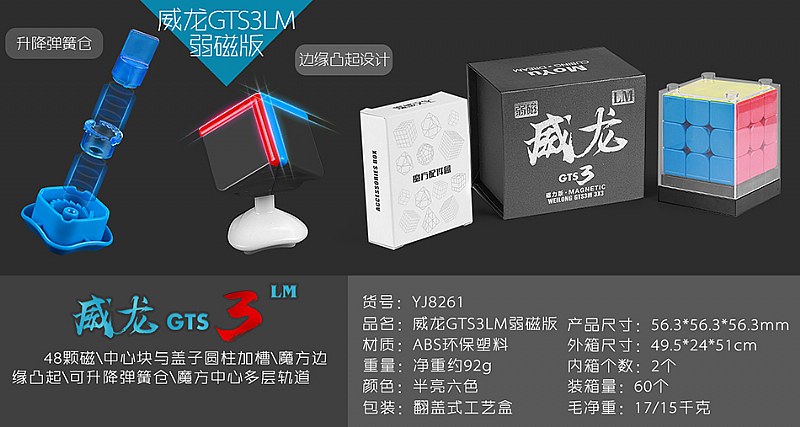 Commodity information:
Memo:
Innovative and Improved Center piece design


4 slots inserted inside the center piece strengthens its structure and 2 inner piece additions make the center cap fit more tightly

Upgraded and Sculpted Exterior

A sculpted pattern exterior makes the surface of the cube easier to grip.

Professional and adjustable springs (Dual-Adjustment System)


Dual-Adjusting tools allow for more choice in elasticity and for you to set the tension to an ideal level.

SMulti-track Design

A multi-track design allows for the cube to be more stable and smooth.

You're able to set the springs to your own preference in order to reach a feeling you're satisfied with.

Magnetic Positioning Technology

48 pcs magnets inside the cube improve the hand feel, magnet slots ensure the magnets placed accurately.


slick design


The anti-sticky design in the contact areas rid any issue of a sticky feeling, making the cube turn more smoothly.



Superb Corner Cutting

Forward corner cutting on the Weilong GTS3M is about 55 ° and reverse corner cutting is about 30 °; This aids in more fluid



Detailed Core


The core uses an elaborate nylon plastic along with a high precision springs set, giving the cube smooth and stable turning.





Comfortable Size
With a 55.5mm Flat sizing and 56.3mm sculpted sizing, the optimized size makes the cube easier to control and speed up.


The weight of the cube is around 92g, giving you a nice, solid feeling.


Center Stalk


Adjusting the center stalk upwards gives more room to accommodate the internals and piece bases, increasing the cube's overall stability.

Durable Material

Primary internals prevent deformation and abrasion.


Creative Component

A unique design on every component makes each piece connect precisely, also making disassembly more convenient.


Glue injection
Precise glue injection on the magnets ensure that they're attached properly, allowing them to enhance the turning.

Stickerless Cube


A professional stickerless cube using environmental materials.


Exquisite Display Box


An exquisite display box inside the packaging protects the cube and allows for a beautiful display.

Beautiful Cube Box
The cube box uses high quality material, proving beautiful and practical.